An 8-module immersive for men seeking to explore their depths, evolve their consciousness and reach their true masculine potential.
Reclaim Your Kingdom – A Warrior's Code is predicated on the uniquely put together 12 principles, which form The Conscious Warrior Model. This ethos is about reframing the manner in which men behave, become and move through the world. The manner in which we 'see' ourselves and the manner in which we learn to forgive, create, release and evolve.
This program is a pragmatic and practical way to evolve our ways leveraging ancient wisdom and modern techniques (such as neuroscience, modern psychology, Eastern mysticism and evolutionary psychology to mention a few) to allow us to be more connected, intelligent, adaptive, strong, inclusive and lovingly open men – to ultimately revere women and children and to learn to step humbly into our authentic power and of course revere ourselves.
Expand your consciousness, access inner resources and connect, bond and unite as STRONG & empowered men. The Reclaim Your Kingdom journey will open your mind and heart to the world that has been bestowed upon your feet.
You will be guided, facilitated, directed and asked to contribute meaningfully your life experience. You will not be judged, but you will grow and you will be challenged. You will experience being a man through a new lens – a supportive, empowered and life-changing lens.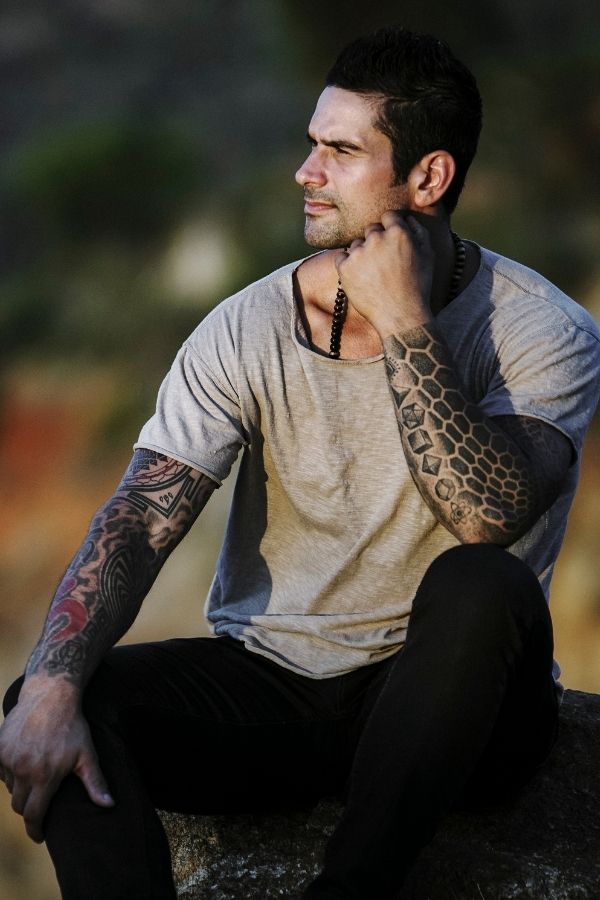 This program is targeted at men wanting to grow, expand and become:
You are tired of addictions, pornography and the lies

You need support on your journey

You are tired of unfulfilling jobs, relationships, marriage and life

You are ready to break through your fears, what is limiting you, and what is causing you to play 'small' in life

You want to be trusted, revered and respected as a man


You wish to connect with other like minded, healthy, conscious men

You want to live your potential, not just dream about it

You are tired of being angry, frustrated and agressive

You want the freedom to life the life on your terms

You wish to be challenged and grow profoundly
We have a responsibility to the Earth, to others, our families, women in particular and children to be the best version of ourselves possible. The manner in which men have behaved and do behave as a collective has been influenced by ancient practices, ideologies, sociocultural norms and archaic structures.
This pillar speaks deeply to what leadership means in contemporary times. Here we leverage a model known as Sovereign Leadership and go deep in to this process for understanding the importance of leadership as men.
We are specifically referring to 5 aspects of leadership:
Heart-based leadership

Leading ourselves (Sovereign Leadership)

Leading by example

Leading from authentic truth and;

Leading with purposeful clarity
If we are to be leaders that can admired, respected and inspirational, we must learn how to be open, grounded and trustworthy men. To be this type of man we must know ourselves, understand our needs, honour what it means to be a healthy and empowered masculine man and build rapport and trust with others.
This is a powerful pillar that sets the REAL tone for masculinity – THE PURPOSE OF MAN. When a man is purposeless, he is lost in the mind, deterred in the heart and wanders aimlessly in life and in relationship. In this pillar we go deep in to answering the question around masculinity in its rawest form.
There are two components to this pillar – The first looks at the 5 P's of man and masculinity, they are: Protect, Provide, Pursue, Procreate, Presence 
The second component to this pillar is the tactical virtues – these virtues are not exclusive to man; however, man has required these set of expressive virtues more than women in order to evolve and grow in to who we are today. Strength, Courage, Mastery and Honour are the four "tactical virtues" that essentially define primal masculinity. 
Character is all about what it means to be a good man. Here I outline a set of principles and ethos based on what it takes to be a good man in contemporary times based on the culture of our time AND the truth of showing up in the world as a man you can be inspired by.
There is more to this pillar than meets the eye. We unpack the virtues and characteristics required to be the best version of ourselves, whilst honoring our needs, our tactical virtues and the needs of others. Not an easy feat, however the art of man is just that – an art to be mastered.
A core component of being a healthy and conscious man is tribe. Who you surround yourself with defines you. Who you choose to be your brothers defines you, gives you a deeper sense of self and helps you know yourself at greater depth.
I have always said what type of man would you want in your life if you were at war, or if a Zombie apocalypse hit…? These questions will determine the type of man you want to spend your time with, learn from, grow with, be challenged by and inspired by.
Tribe is so important for man and men, we forget that we have evolved by relying on each other. 
Our health is so overlooked. We neglect our health in so many ways. The impact and importance of movement in a man's life is essential for living a purposeful and fulfilling life. To be able to live fully, presently and vertically means we must maintain a certain level of health.
Essentially, this pillar is all about preparedness – particularly physical preparedness. We will learn the ancient techniques our brothers of past used to keep themselves in peak physical condition. We unpack the importance of physicality, health, wellness and power.
For too long, the heart of man has been closed. We are shut off from our emotional center. We suppress, ignore and resist the need to express in vertical and open ways. This pillar centers around emotional mastery and heart-based leadership. Most men are taught not to feel, not to cry, and not to find words to express themselves. Just because so many men are not adept and skilled at expressing their feelings, don't think they can't feel, and feel deeply at that.
However, this pillar is more than just feeling our feelings. It is about reprogramming the way in which we look at ourselves, understand ourselves, express, behave and show up in relationship. This pillar provides us an opportunity to know ourselves better and from a place of wholeness, greater empowerment and heightened confidence. 
WEEK 7 – RELATIONSHIP/SEXUALITY
This is a HUGE topic. This segment allows you to know yourself in the most powerful of ways. We delve in to so many aspects and expressions of sexuality and relationships. This section and pillar is all about enhancing your connection to others and to yourself. 
This pillar allows you to know yourself in intimate ways, whilst learning the tools and techniques to relate and interact with others on your terms. Learn what you were not taught at school. Learn how to connect with yourself and with others in the most authentic of ways.
This lesson is massive and will revolutionize the manner in which you present yourself to the world. If done right, you will be able to have any person you desire in the most real of ways.
This pillar represents your ability to be a tough, resilient and strong man at all levels. We explore the mindset/s required to be a man of sincere power and presence. We explore growth mindsets and rigid mindsets. I provide you with what you require in order to shift from disempowered states in to postures of true confidence and self-belief.
For so long, I was a prisoner of my own mind, thoughts, beliefs and perceptions. I was rigid, locked in and honestly believed and thought there was no way out. I would create debilitating stories about others, my abilities and circumstances that fed the fear and rage within me. I learned to let this dissolve. I learned to detach and release. I learned to be empowered and I want to teach you how to also. This pillar does just that – in fact the whole program does…
Balance and harmony play a huge role in the formation and successful execution of this pillar. We evaluate the need to move away from extreme perspective and mindsets and in to greater harmony within ourselves. We learn that extremes are not only unattractive, repelling and restrictive but they also cause fear in others.

ELITE HEALTH PROTOCOL
Unleash your physical presence with a health, wellness and movement protocol – simple, yet powerful. You will learn to integrate your body and mind whilst accessing Stefanos' vast expertise working with some of the most high performing males in the world.
INTENSIVE GROUP TRAINING
Direct weekly connection in immersive live webinars led by Stefanos. All sessions are recorded, saved and you will have lifetime access to all recordings. These webinars are a safe and evolving container for your accelerated evolution.

WARRIOR CHALLENGES
These immersive, concentrated, explorative and fun challenges will strengthen your neural networks, adjust your behavioural patterning, allow you to reevaluate your beliefs and create new neuronal mapping that aligns with your goals, vision for self and embody the whole person you wish to be.
IS THIS PROGRAM ONLY FOR MEN?
Yes, this is an immersive journey only for men designed to take you down a path of connection, sovereignty and redefining what it means to be a man in this day and age.